To say the 2020 Michigan Wolverines football season was lackluster is to say water is wet. Yet, head Wolverines coach Jim Harbaugh was given an extension, after he signed the deal he promptly let some coach's go. Perhaps that was part of his new contract. No matter, the Michigan Wolverines have a very good class headed to Ann Arbor in 2021. Could this be the turning of the corner Michigan has needed since they brought Harbaugh in as head coach?
The recruiting side of Jim Harbaugh has always been met by critics. Has Harbaugh lacked consistency recruiting? Yes! There is no two ways about it. One of his biggest downfalls has been he has let in-state talent leave. For other Big 10 schools. Including rivals Michigan State and Ohio State.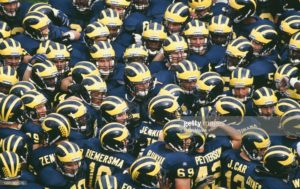 The recently shook up Michigan Wolverines coaching staff took to the recruiting trail and it paid off. Landing a top 10 incoming class with new coach's is not easy. Yet, that is what happened. Many in-state talent was kept in-state and will be heading to Ann Arbor.
Recently as well Jim Harbaugh said that many fans and members of the media mentioned that the old Harbaugh was what has been missing. You know the one. The guy with chewing tobacco in his lip, pacing the sideline waiting at the go to rip an official or throw a clipboard when a call goes against his team. Harbaugh has vowed, the old Harbaugh is back!
This recruiting season, things were different for the Michigan football program. There was actually focus and a game plan for getting players to sign with the Wolverines.
While the official signing period is not over and there is time for Jim Harbaugh and the Wolverines to add more talent, a return to the top 10 in recruiting is a welcome sight. This will need to become the new "norm" if Michigan is to catch Ohio State.
The hope is that this is a launching  point that will help elevate the Michigan Wolverines back to the top of the Big 10.