Cole Perfetti, Jamie Drysdale, and Jaroslav Askarov are just a few names that have been linked and mocked (drafts) to the Detroit Red Wings for a while now. Red Wings general manager Steve Yzerman has not and will not tip his hand as to what position he and his scouting department are leaning towards. Yzerman like the rest of the NHL world have to see how the top three pick shake out first.
In my opinion, with the 2021 full of elite defensive players, Detroit Red Wings GM Steve Yzerman should be looking at forwards with the No. 4 overall pick in tonight's draft.
There is elite talent within the top ten picks of the 2020 NHL Draft. A player that has caught my eye is Marco Rossi, Rossi is an electric offensive force  at center. That is a big need for the Red Wings second line.
There are two very close to elite defensive players in this draft. Jamie Drysdale and Craig Button. Again in my opinion with the offensive needs the Red Wings have Yzerman would be wise to search for blueline help in the second round where the Red Wings have three draft picks.
It would not be the end of the world if the Red Wings go defense at No.4. Either Drysdale or Button's scouting report and projects would justify picking either player. That said, there is talent in the Red Wings system. Including last years first round draft pick Moritz Sieder.
For Steve Yzerman who will be doing his second draft as Red Wings GM, he has has nine more picks to play with and find impact players. Whoever the Red Wings select in the first round it will be a player who is close to being NHL ready.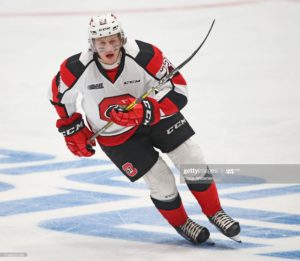 Of the forwards who do not go in the first three draft picks experts agree Marco Rossi is the closest to being NHL ready. In fact many say he could make the jump in the upcoming 2020-21 NHL season.
It will all unfold tonight at 7:00 pm.