By trading former Detroit Lions starting quarterback Matthew Stafford to the Los Angeles Rams for two first round draft picks (2022 and 2023) and a third round draft pick (2021) along with Rams starting quarterback Jared Goff it has garnered the Lions draft capital. Should the organization draft a quarterback in 2021? That is the question we will dive into.
Heading into the 2021-22 NFL season there is little doubt Jared Goff will be the Detroit Lions starting quarterback. In fact Goff could be the starter for two seasons. Which is fine. At 26 years old Jared Goff has already played in a Super Bowl and been selected to two Pro-Bowls. At the very least Goff is a serviceable quarterback.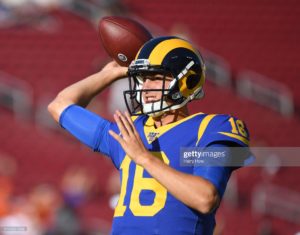 The Detroit Lions currently hold the #7 pick in the first round of this years draft. It seems inevitable that up to three quarterbacks will be selected before the Lions have their turn.
Another fact is that the Lions simply do not have many draft picks this year due in part to poor choices former general manager Bob Quinn made. Current Lions GM, Brad Holmes would be ill advised to take a quarterback from rounds 3 and later due to the fact that unless your name is Tom Brady the likelihood a quarterback taken this late would even see the playing field is next to zero.
The Lions could sign a cheap free agent to fill the role of backup quarterback. That said because drafting a quarterback is like throwing a darts at a dartboard the risk this year seems far to great.
The Detroit Lions are in for a total (much needed) rebuild that is going to take some time. The roster is filled with holes that need to be filled and the team as a whole lacks speed.
This years draft focus should be in my opinion, on areas that can impact the roster this coming season. Be it wide receiver, offensive line, linebacker, defensive backs or edge rusher.
So in should the Detroit Lions draft a quarterback in 2021? My answer is no.