Success is not a word often associated with the Detroit Lions. Through the years and decades the Lions have had limited runs of success not consistent or prolonged for sure, this time however, it feels different. GM Brad Holmes has drafted very well in the two NFL Drafts he has lorded over. The Detroit Lions roster is not built to win many games this season, the team currently sits at 2-6 on the season. When the offseason rolls around, all bets are off.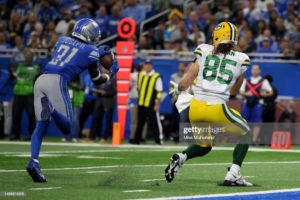 Armed with seven draft picks including two-first round picks, The Lions are set to bring in another solid draft class and perhaps a franchise quarterback. The Lions young offensive playmakers and solid offensive line would be ideal for a young QB.
The Lions defense has been a bit of a mess, but the unit has started to play better as of late. Rookie safety Kirby Joseph has stood out and was named Defensive Player of the Week last week for his two-interception 10-total tackle performance against the Green Bay Packers.
As stated, Brad Holmes has done a very good draft, no real surprise there given the GM spearheaded the Los Angeles Rams draft and helped put a Super Bowl Championship team on the field in L.A. Last week in a move that surprised some Holmes traded TE T.J. Hockenson to the division rival Minnesota Vikings for more draft picks.
By trading Hockenson, Holmes freed up more money and the Lions now have $80 million in salary cap room. In other words, Brad Holmes is going shopping during the offseason. Free agents will be brought while as the young core is gaining experience playing games.
So to recap, Brad Holmes drafts very well, with seven draft picks and an outstanding quarterback class, Holmes can draft his franchise QB. $80 million in cap space, suggests that Holmes will address needs at safety, cornerback linebacker nudging the Lions closer to contention.
What Holmes has asked Lions fans to do with saying it publicly is to sit through one more bad season. His moves have set the Lions up for prolonged success.