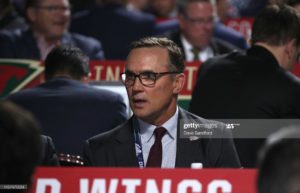 Since the 2016-17 NHL season no team has accumulated more wins than the Tampa Bay Lightning. The Lightning have accumulated one President's Trophy, two 100-plus point seasons and plenty of regular season records as well. For all the winning the Lightning have done one thing has eluded them, a Stanley Cup championship.
It is fair to say the Tampa Bay Lightning are due. Being a consistent NHL regular season winner has paved the way for the organization to face the Dallas Stars in this year Cup Finals.
So just how does the Lightning playing for the Stanley Cup bode well for the rebuilding Detroit Red Wings? Let's start with the obvious. The same man who built the juggernaut Tampa Bay hockey team is the same man tasked with rebuilding the Red Wings. Steve Yzerman.
When Yzerman took over as Lightning general manager he took over a bad hockey team. Through shrewd traded and savvy  free agent signings, the Lightning became a regular season giant and a regular in the NHL playoffs.
Things are a bit different in Detroit. Yzerman is building a young core around Dylan Larkin, Tyler Bertuzzi, Anthony Mantha and Filip Hroneck. Yet, Yzerman has made some rather nice trades for the Red Wings, such as trading for Robby Fabbri from the St. Louis Blues.
Seeing the Tampa Bay Lightning in the 20129-20 NHL Stanley Cup finals, should be a welcomed sight for the Red Wings organization and the Red Wings fans base. Yzerman stated over and over during his time as Red Wings general manger, it takes time to build a winning. Yet, that is what he does.
There are different expectations in Detroit. Yzerman himself acknowledged this by saying he understands the Detroit Red Wings play for championships. He is tasked with getting the organization back to that level of play. There is next to no doubt Yzerman will deliver.