Optimism has been extremely hard to come by for Detroit sports fans lately. The Pistons, Lions, Tigers and the Red Wings have not been good to say the least. Yet, for all the misery the Red Wings have one thing the other Detroit teams do not, a proven general manager. Steve Yzerman's play for the Red Wings is to build his team through the draft. Something the other Detroit teams should mimic.
Two years into his job, Detroit Red Wings GM Steve Yzerman has had two very solid drafts. Drafts that have added to the Red Wings prospect pool. Coupled with Yzerman's quote that "you can't build a team through free agency," Yzerman is using the NHL Draft to build his roster.
The Detroit Red Wings are signing low-term free agents that will help the team be a better. The catch is the players the Red Wings have signed can be flipped at the trade deadline for more draft picks. As they have value around the league.
Detroit Red Wings fans knew Yzerman would improve the team and organization. The Red Wings GM wants to avoid long term contracts for now and focus on putting the right group veteran players around his core players  and he wants to do it being cost effective.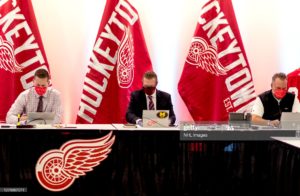 The 2020-21 Detroit Red Wings should be a little better than last seasons and that is just fine. The Red Wings need to continue to get top 10 draft slots and the scouting department needs to continue to do their solid work.
Steve Yzerman built a Stanley Cup-winning team in Tampa Bay. It took time, it will take time in Detroit as well. But, Detroit sports fans have more faith in Stevie Y. than they do with the other general managers in the city putting their teams together.
Building through the draft is the right move no doubt about it.