It was not the stunning fact that the Rutgers Scarlet Knights beat the  Michigan State Spartans in Saturday's Big 10 season opener. It was the fact with a new coaching staff on the Michigan State sideline the Spartans came unglued and did not look prepared as the team amassed seven costly turnovers. Now the Spartan football team will head to Ann Arbor to take on heated in-state rival Michigan.
Michigan State's new football coach Mel Tucker made his Spartans debut Saturday in East Lansing. It was a debut that I have little doubt Tucker would like to redo.
With a mostly unproven offensive line, the Spartans failed to establish a rushing attack and quarterback Rocky  Lombardi was sacked three times. Tucker told the media after the game " Overall, just looking at it, it didn't look like we were able to control the line of scrimmage like we need to."
In pervious years, Michigan State  ran a base defense of a 4-3 under former head coach Mark Dantonio. This season new defensive coordinator Scottie Hazelton sifted to a 4-2-5 against Rutgers. The Spartans needed to replace seven defensive starters from last years squad.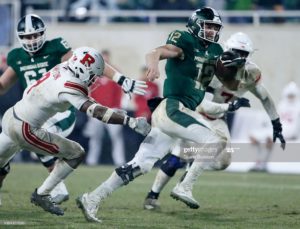 That is enough new to create in game issues. Then throw in seven turnovers and it adds to the pot and creates and very difficult spot to get out of. Now the Michigan Wolverines coming fresh off a blowout win against the Minnesota Golden Gophers await.
There is much work and issues to clean up for the Michigan State Spartans. I suspect the team will have a better showing Saturday in Ann Arbor due to cleaning up some issues and because it is a rather big rivalry game.
Will it be enough? That is a question that is difficult at this time to answer. Even if the Spartans lose to the Wolverines there must be progress both made and shown. Otherwise it could lead to a long messy first season for Mel Tucker and his Michigan State football team.