Michael Rasmussen, was the Detroit Red Wings 2017 first-round draft pick. Playing the 2018-19 NHL season in Detroit, because the only other option was playing junior hockey. Rasmussen, struggled that season in Detroit. He would have been better off playing in Grand Rapids with the Griffins if that was in the cards.
Last season due to the pandemic, Michael Rasmussen played just 35 games for the Griffins, as did every AHL player. Sitting idle for long periods of time is not ideal for young players.  Detroit Red Wings general manager Steve Yzerman lent the young center to a team in Austria this past fall.
It was in Austria that Rasmussen flashed the talent he is projected to have in the NHL. In 18 games played, Michael Rasmussen had 5 goals and 18 points. Along the way to becoming a point a game player at least in Austria, Rasmussen found his confidence.
Now in the mix for a roster spot with the Red Wings, Rasmussen entered training camp in the best shape of his career to date. Adding a little muscle, the young Red Wings prospect said he feels like he is in game shape and credits playing in Austria as the primary reason why.
Since being drafted by the Detroit Red Wings, fans want Michael Rasmussen's development to happen at a faster rate, forgetting he is only 21 years old. Rasmussen is a big piece in the Red Wings future.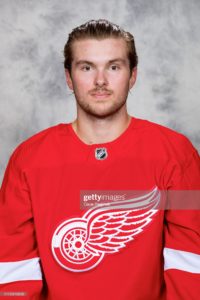 Rasmussen is a  6 foot 6 inch, 220 lbs center who is strong around the net and understands how to use his size and strength, for a young player he is not afraid to block shots as well.
Red Wings head coach Jeff Blashill believes Rasmussen can be a shutdown center. Meaning he can face other teams best and hold his own. That is critical for the Red Wings moving forward to have a trusted center.
Early injuries  impacted Rasmussen at the junior and pro level. He is now mentally stronger and has overcome injuries, that is a big part of player development.
The Detroit Red Wings are looking and need more scoring depth. With a newly found confidence, Michael Rasmussen could provide the team what is sorely needs.