It has been a source of constant conversation in Detroit. Fans and media all wondered aloud, if the Detroit Lions would apply the franchise tag to star wide receiver Kenny Golladay. Last week new Lions general manager Brad Holmes said "you'll know very soon what out intentions are." Now we do. The Detroit Lions are moving on from Golladay.
What was already going to be a lengthy rebuild could most likely be sited for the Detroit Lions choice to not tender the franchise tag to Kenny Golladay. At 27 years old, Golladay would be 30-31 by the time the Lions are ready to contend for division titles again.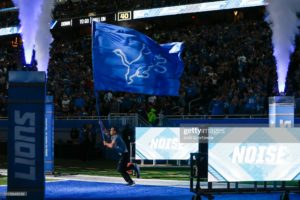 By not tendering the franchise tag it saves the Lions roughly $19 million for next season. That money can be spread out between other players to help the team. It has been reported that Golladay turned down a new contract that would have paid him $20 million per-season.
What was already evident became more so, when the news broke about the Lions plans. This is not only going to take time to reshape the roster, but now it seems as though there will be next to no hold-overs from the Bob Quinn era of Lions football. At least at the skilled position.
In my opinion this is the right move for the Detroit Lions. A rebuilding team should not pay one player $19 or so million, when there are holes up and down the roster that need to be fixed or at least patched until core players can be identified and drafted.
For Kenny Golladay, it gives him the chance to play elsewhere and teams will line up for his services. Golladay should not be out of work long. The question is should the Lions have placed the franchise tag on Golladay with the intention of trading him?
That is a knee jerk reaction. First a team interested in him would have to agree to take a one year deal at $19 million, while teams may prefer a longer contract and not pay a rather hefty one season lumpsum up front.
As for the Detroit Lions, it is refreshing to see a general manger with a plan of how he wants to construct his team. Through the draft.