They did it! No really. The Detroit Lions drafted a foundational player. Penei Sewell from the University of Oregon, an offensive tackle. In his first draft as Lions general manager, Brad Holmes absolutely nailed the draft pick. The Detroit Lions got a premier offensive linemen and a generational player. It is refreshing to actually see the Lions draft a player who is as gifted a Sewell.
Through the first six draft picks in the first round of the 2021 NFL Draft it seemed as if Penei Sewell could be there when the Detroit Lions picked at #7. When the Lions were on the clock, not only was Sewell still on the board but so were other players that certainly would have and could have helped the Lions.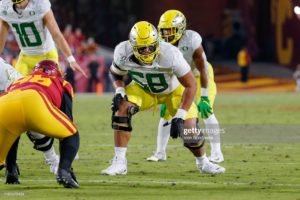 What made Penei Sewell not only the right pick for the Lions but also the only pick that made sense, is that the Oregon product is the best tackle to come out of college in a long time. Let's take a look at what makes Sewell so good.
For starters Sewell, has an elite frame for an offensive tackle, build and speed and power are a plus. Down after down Sewell explosively springs out of his stance to gain ground with above average footwork, excellent balance and weight distribution as a pass protector and run blocker with special ability to recover from compromising positions.
In other words Penei Sewell is the total package. He is a tackle who just does not come around everyday or every NFL Draft. Many football experts, broadcasters and media members believed Sewell was the best player in college football. They may have been right.
For a team like the Detroit Lions who are in a full blown rebuild drafting a player like Penei Sewell is a very good start. Not only that but Brad Holmes has really bucked Lions history by not drafting a skilled player or a one year wonder.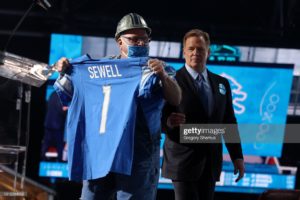 Detroit Lions fans and beat writers will get a better look at the vision Holmes has for the Lions when the 2021 NFL Draft resumes with rounds 2-3 today and then the rest of the draft.