Even rebuilding teams need to win some games. They need to win for the fans. They need to win in order to build a winning culture. They need to win to show young players the right way to go about their job. For the Detroit Lions, the 2021 NFL schedule is brutal. It is brutal because while the team is rebuilding and has a lot of young players on the roster they have been handed a wickedly tough schedule.
10 of the 14 teams the Detroit Lions face in the upcoming season have made the playoffs at least once in the past two seasons. In fact three of the teams Packers, Raven, Seahawks have made the playoffs both seasons.
The last part of the schedule lightens up a bit as the Lions face three of four non-playoff teams. The Lions face the Chicago Bears yet again ( 3 of the past 4 seasons) on the teams annual Thanksgiving Day game.
As of this moment, with a pretty young roster and still many holes to fill it is difficult to see more than five wins. Even getting to five wins the Detroit Lions are going to have to get some breaks.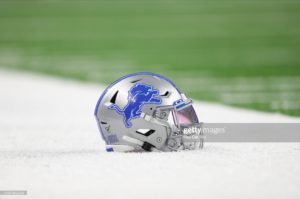 That could be good if you are a "tank" thinking person. The reality is that the Lions will not have to tank. They simply are not ready to compete for anything other than a high draft pick. Again with holes aplenty in the roster high draft picks are a good asset to have.
Remember the extra first round draft pick the Lions received when they traded quarterback Matthew Stafford to the Los Angeles Rams. While the Rams are most certainly a playoff team and that draft pick is likely to be in the lower half of the draft that is just fine. There is still talent to be had.
Lions general manager could also trade the second first round draft pick and move up as well. Regardless, It will be a long season win wise for the Detroit Lions in 2021. It will be a season to watch the young players develop.