This past Wednesday the Columbus Blue Jackets announced that they had signed 2020 third round draft pick Samuel Knazko to a three year entry level contract (ELC.) The 18 year old defenseman is from Slovakia and promises to bolster the Blue Jackets blueline soon. What kind of player is Samuel Knazko? A closer look shows he can be an impact player.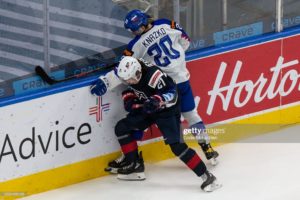 There is a lot to like in  Samuel Knazko game. Knazko's skating is very good, he has great hands and a very good shot that makes him a natural for the Columbus Blue Jackets. The young defenseman has excellent eyes and his passes are on point. Knazko is not afraid to make back-handed passes which sets him apart from most defensive players.
Samuel Knazko was the captain of the Slovakian team at this years World Juniors Turney. While a short and I do mean short start to his U.S. hockey career is likely to start in Cleveland with the Monsters. Columbus Blue Jackets fans can expect to see Knazko in Columbus very soon.
The Columbus Blue Jackets under general manager Jarmo Kekalainen's time with the organization has drafted defensive players that can move the puck up ice with some offensive ability as well as be able to quarterback the power play. Samuel Knazko fits that bill.
With the Blue Jackets rumored to be trading Seth Jones, Knazko becomes an important figure the future of the defensive unit. He has the ability to be a top 6 player for Columbus.
In review, young Samuel Knazko is a defensive player with a lot of up-side. He should fit seamlessly in the Blue Jackets blueline once the team feels he is ready for NHL competition. Again, that should be sooner than later. Columbus Blue Jackets fans will like the young Knazko's all around game.