As NHL training camp is about two weeks away, the Columbus Blue Jackets have some serious work to do. At the top of the training camp list is finding a top line center. At the moment the reshaped Blue Jackets roster is void of any such vital position player. It is being widely speculated the team is going to give a long look at Jack Roslovic to see if he can step in and step up.
With newly drafted centers Kent Johnson (heading back to the University of Michigan) and Cole Sillinger (could be headed to the Cleveland Monsters) not expected this season in Columbus, the Blue Jackets still have a major issue at center. Both Johnson and Sillinger are projected to be very good NHL players, but first development must take place.
Jack Roslovic, who can play center and in fact did so for the Blue Jackets last season has never been viewed as a player who can handle the top line. Yet, that is what the Blue Jackets need. They also need a center who can feed the puck to Patrik Laine.
There is a lot of pressure playing on the top line in the NHL. After all that is the line that is supposed to lead the way in terms of goals and minutes played. One thing that Jack Roslovic will have going for him is he will have Jakub Voracek (right wing) and Laine (left wing) on either side of him. That can do nothing but help the young Roslovic.
Playing two minutes per game longer than he did the season prior with the  Winnipeg Jets (2019-20), Roslovic tied his NHL high with 12 goals and set career marks with 22 assists and 34 points.  Offense is not really an issue for Roslovic.
On defense however, Roslovic was a bit of a hot mess as was his alarming struggles in the faceoff circle. To be fair he did improve a bit on faceoffs late in the season. But, in today's NHL top line centers are expected to be solid two-way players.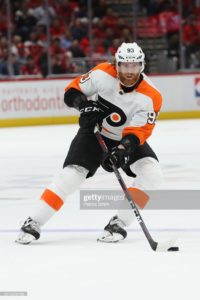 His growth into a top line center has a lot of variables to it. First, Roslovic needs lean into his work ethic and work his tail off. Secondly, Blue Jackets head coach Brad Larsen and his new system must be solid to give the young center an chance to grow his game. Assistant coaches will be counted on heavily.
It is not ideal, but this is what the Columbus Blue Jackets are going to see through, one way or another.