I really like Star Wars. When The Force Awakens was set to hit theaters in 2015, I was amped up. After leaving the theater I was a underwhelmed. Director JJ Abrams was known for reviving movie franchises. Star Wars did not need reviving just fresh stories. The problem is The Force Awakens is the best sequel movie by a long shot. Here's why.
We are introduced to Rey who is in the same sort of mold as Luke Skywalker. Rey is sort of a cross between Luke and Obi-Wan Kenobi which is odd for a new character. Also Finn and Poe Dameron round out the new Star Wars trio.
Finn and Poe share kind of funny, kind of annoying scenes together mixed in with the new droid BB8. There is next to no character development with Finn an Poe so that gets a bit muddled.
Rey is trying to find Luke Skywalker and the whole film is about that search. Kylo Ren who is actually the best character in the entire sequels is played by Adam Driver. Ren is the son of Han Solo and Princess Leia. He turned to the dark side but really just because he wanted to. That was not ideal writing.
There is a nice chase scene in the film and it does fairly well as an introduction film. Two events in the film really began to sour the Star Wars fan base.
The death of Han Solo. Walking into a lightsaber. Seriously? This is how one of the most iconic movie characters dies? Okay.
When Rey does finally find Luke Skywalker it is the moment everyone has been waiting for, and then there he is and he's bitter, angry and rude. Really? This is not the essence of Luke's character. That was a big miss.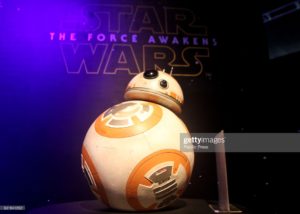 The Force Awakens was in hindsight an alright film. The fact that it turned out to be the best of the new batch of Star Wars movies probably tells you how I personally feel about the sequel trilogy. I am not alone, Disney is now trying to fix the mess they created and it is going to take a lot.