The Michigan Wolverines are playing for the Big Ten Championship, Saturday night. In what may be one of the most unique seasons in the school's history. Head coach Jim Harbaugh took a pay cut, fired most of his coaches, hired new coaches and named a new starting quarterback. Then went out and one a spot in the championship game. But why did it take this long? Let's dive in.
Before Jim Harbaugh arrived in Ann Arbor, the Michigan Wolverines football team was headed by Brady Hoke and Rich Rodriguez before him. Rodriguez and for the most part Hoke's teams were pretty much finesse driven. Which is fine and all I mean Ohio State has played that way for a long time.
Jim Harbaugh is a power football guy. His philosophy is a rock solid offensive line and defensive line. Harbaugh would rather have his lines dictate the game, as was the case Saturday when Michigan used power to shove Ohio State defenders all over the field.
Coaches recruit for the system and style they like. That said when Harbaugh took over for Brady Hoke there was a team with a lot of finesse players on the roster. Not only that but Michigan already had more recruit's from Hoke that would be enrolled that fall.
Those players would stay at Michigan at least three seasons. Harbaugh began to recruit the players he preferred many did not play right away. This is year seven for Harbaugh at Michigan his players whom he had groomed started to look like Michigan football teams of the past.
Now with his team having a chance to play together and gain some much needed team chemistry the Wolverines were taking shape. I am not making excuses for why it took so many seasons, I am just examining the why.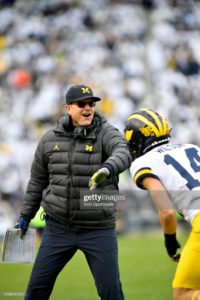 This season with his vision finally matching the on-field  product, Harbaugh's Wolverines were a power football machine. The way to beat finesse teams is with power football. Power wins nearly every time.
Michigan Fans and fans that follow the Big Ten should get use to this style of Wolverines Football it is what the head coach runs and it wins a lot of games.