Outside of Columbus Ohio and the rabid Blue Jackets fan base, right wing (RW) Oliver Bjorkstrand is relatively unknown. Other teams know how good Bjorkstrand's well rounded game is. It is time for the national media and fan bases league wide to start to see what Columbus Blue Jackets fans see game in and game out. Oliver Bjorkstrand is one if not the most underrated player in the NHL.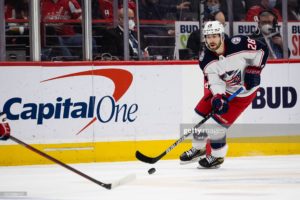 Drafted in the third round (No. 89) of the 2013 NHL Draft, Oliver Bjorkstrand came to the Columbus Blue Jackets with tremendous speed and what looked like the making of a solid defender though it took him a while to get there. Scoring was not an issue.
During his development days in the minor leagues, Bjorkstrand would get call-ups to Columbus. The team would let him know what he still needed to work on. Once he cleaned up the areas the organization asked him to focus on, Bjorkstrand made his way to Columbus and did not look back.
Oliver Bjorkstrand, is now one of the top players on the Blue Jackets roster. His play has gotten better and better. He has become a very good in the defensive end while he is a smooth scorer. What has really improved in his game is his passing.
For the rebranding Columbus Blue Jackets roster, Bjorkstrand has cemented himself in as a core player going forward after the roster has been turned over. Blue Jackets head coach Brad Larsen, knows he has a player in Bjorktrand that he can plug into any line (primarily the top two lines) and get the effort he needs.
At just 26 years old, Bjorkstrand should be in Columbus for a while. The 2022 NHL trade deadline is tomorrow (March 21, 2022.) I say that because, though other names on the Blue Jackets roster have been circulating as far as trade rumors, Bjorkstrand's name has not. That is a good thing.
Still, Blue Jackets general manager Jarmo Kekalainen, has been known to make big trades and is fearless in doing so. For a team to pry Oliver Bjorkstrand away from Columbus, would take a jaw-dropping offer. Again, I do not see that happening as Bjorkstrand is a core player.
The rest of the NHL should take some notice, the Columbus Blue Jackets have a very good, very underrated player in Oliver Bjorkstrand.