Six defensive players drafted, while only two offensive players were selected. With that the Detroit Lions and general manager Brad Holmes concluded the 2022 NFL Draft. So what gives? The rebuilding Lions have needs up and down the roster, which Holmes drafted some of those areas of need and rather masterfully. The Lions defense definitely got a boost. The offense while needing some upgrades was and is in better shape.
Ranking 31st in scoring defense and 29th in total defense in 2021-22 made upgrading the unit paramount. I do not believe for one moment Brad Holmes and the rest of the Detroit Lions front office walked into team headquarters in Allen Park with the mindset of drafting six players on the defensive side of the ball. I do believe as the draft was taking shape and players fell to them they made the call.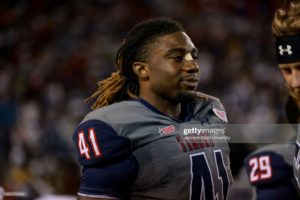 Needing a lot of help at edge rusher the Lions selected three (Aiden Hutchinson, Josh Paschal and James Houston.) Needing both help and depth in the secondary Holmes found two to his liking (Kerby Joseph, safety and Chase Lucas cornerback.) for good measure Holmes drafted linebacker Malcolm   Rodriguez to round out the defensive draft picks.
Only wide receiver Jameson Williams and tight end James Mitchell were selected for the offensive which may be telling of how the Lions brass feel about the offensive side of the ball. In a lackluster quarterback draft, the Lions will ride Jared Goff once again, which is not a bad thing.
Brad Holmes once again did a masterful job at addressing needs. As the dust settles on the 2022 NFL Draft, the Detroit Lions are a better football team. The team now has edge rushers who can get to the quarterback. The secondary looks more solid while the linebackers are still a bit weak. You simply can not fix every area in one draft.
The Lions offense looks to be able to make things uncomfortable on opponents. Jameson Williams once he returns (rehabbing from a torn ACL) gives the Lions the deep threat they have been missing, which should help the running backs and with play action.
All and all, this was a very good draft for Brad Holmes and the rest of the Detroit Lions front office. I don't like to give out grades as the proof is on the field. But a knee- jerk  grade would be a solid A.
Drop a comment and let me know what you think of the Detroit Lions draft class.