Citizens have been opposed to law enforcing officers for a few years now. I am not going to rehash what some view as police brutality. It has become clear that a reset is needed. For communities and police officers and police departments to take a collective breath and figure out how to mend whatever division there may be. Next week at the Legends Football Camp, camp founder Jeff Chadwick and his staff have come up with a way that could bridge some peace.
Former Police Chief, Brian Gregory will be honored at the lunch break Wednesday, July 13th. Gregory who served the Clare, Michigan community for 30 years is certainly worthy to be honored given time spent.
As officers gather from Clare and outlying areas to honor a fellow officer it has the ability to calm the storm of uneasiness that has swept our nation. Those seem like heavy words and perhaps they are. But, one random act of kindness can go a long way. It can also help to heal.
In 30 years of service it is safe to say that former Chief Brian Gregory has seen a lot, the good and the bad. Such is the life of a first responder. It is not only the fact that Gregory is a community public figure, but that through this current environment Gregory has stuck to his oath as an officer to protect the people of Clare.
For former Detroit Lions and NFL veteran Jeff Chadwick to choose to shine the spotlight on such a public figure is a random act of kindness that could start other cities and towns to do the same.
As a nation we need to set aside our differences and really look at all the facts and not just hop on the this person is bad bandwagon because "everyone is doing it."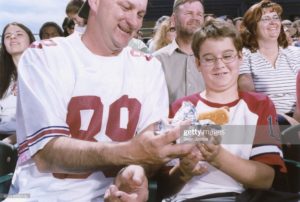 One aspect that I am grateful for, is that not only will the Legends Camp be honoring Officer Brian Gregory, not only will spectators look on, but that the children both athletes at the camp and those in the stands will also be looking on.
The next generation will see an officer being honored. Let's all hope they carry that with them the rest of their lives.