Now that both the NHL draft and free agency have past and NHL training camps are just weeks away from getting underway, it is time to check in on past trade talks. Right around the draft the Arizona Coyotes and Columbus Blue Jackets were talking about a trade that centered around Coyotes defensemen Jakob Chychrun. No trade was made but that does not mean that the teams ended the talks entirely.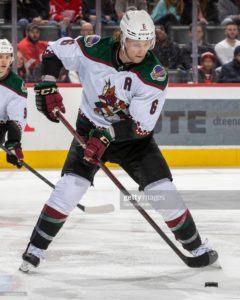 The Blue Jackets are a young up and coming team and the Coyotes have been in rebuild mode for a while. Columbus has a surplus of forwards and the Coyotes need forwards. The Coyotes have defensive talent and the Blue Jackets need more help on defense. Making this a plausible possibility.
If a trade were made, The Blue Jackets would get an instant upgrade for the blue line. A top pairing of Zach Werenski and Chychrun would help the rest of the roster out as Andrew Peeke would have to slide to the second line so the Blue Jackets depth would be better.
Jakub Chychrun signed a 6 year $27,600,000 contract in 2018. The Blue Jackets who had to trade Oliver Bjorkstrand in order to get Patrik Laine's new extension under the cap would need to send a player or players to Arizona of at least equal value in order to be under the cap if they trade for Chychrun.
With the trade of Bjorkstrand the word is Columbus is going to give Krill Marchenko a long look in training camp. Still the Blue Jackets could offer a package something along the lines of Gustav Nyquist and former first round draft pick Liam Foudy. Again that is just an example.
Chychrun is a very good defensive player and the asking price would be a lot as it should be. Again the Blue Jackets have a surplus of forwards and certainly have enough to offer the Coyotes.
I am not saying this is going to happen, but it is worth keeping and eye on as it is pre training camp trade season.