Todd Richards, John Tortorella, Brad Larsen, the past three Columbus Blue Jackets head coaches. Of the trio only Tortorella found some success leading the Blue Jackets to the franchises only playoff series win. Saturday, the team fired Brad Larsen and now GM, Jarmo Kekalainen and President of Hockey Operations, John Davidson must hire the right head coach, for the remainder of reset the team is currently under and when they are finished and ready to compete for a playoff spot.
Fans should be prepared while the coaching search is developing to hear names like; Bruce Boudreau, Peter Laviolette, Alain Vigneault, and others. Only Kekalainen and Davidson know who they are targeting and who they want behind the bench.
Yet, no matter if it is a coaching retread or a new face, it must be the right fit. The Blue Jackets have one of the better prospect pools and they team is young. Players like Kirill Marchenko and Kent Johnson are still developing next season top prospect David Jiricek will be in the mix for a roster spot. So needless to say, the next head coach must be able to develop young players.
The Blue Jackets badly need a stabilizing head coach. One that can develop young players and get veterans to produce more. That in and of itself is the trick. The timing of firing a coach is never good. The team is preparing for the 2023 NHL Entry Draft, mapping out an offseason game plan and now looking for a new head coach.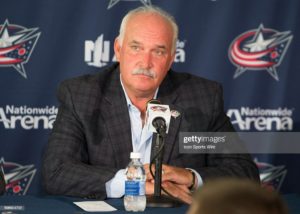 With a new head coach the question is will he retain any of the leftover coaches? That does not generally happen. A coach wants coaches they have worked with so while it is possible, do not hold your breath.
Jarmo Kekalainen also stated that some changes will be coming as he wants to get the team back into the playoffs. Just what those changes are one can only guess.
It is going to be an interesting spring and summer in Columbus not too mention busy.