While some Star Wars fans are calling Ahsoka "Rebels 2.0" the show is reaching fever pitch in terms of anticipation. While it is true that Star Wars Rebels characters Ezra Bridger, Zeb Orrelios, Chopper, Sabine Wren and the lead character Ahsoka are coming to live action for the first time the popular Star Wars show is sure to satisfy Star Wars fans and fans of Rebels.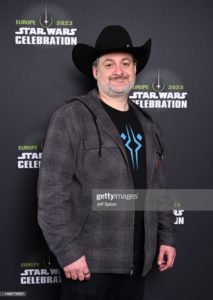 It appears that Star Wars Rebels creator Dave Filoni has either learned a lesson or been paying attention to the fact that other Star Wars streaming shows such as Obi-Wan Kenobi, The Book of Boba Fett and The Mandalorian Season 3 were unevenly paced. Filoni said that the show is kind of paced like The Mandalorian but the episodes are more even in terms of run time.
1 hour and 36 minutes is the total run time of the first two episodes of Ahsoka. Streaming shows are interesting as it gives creators the freedom for run times. One thing, shows of any verity need to flow and not be overly choppy as was the case with aforementioned Star Wars shows. It seems that Filoni has learned that and perhaps he listened to fans vent of social media about choppy run times.
Dave Filoni has also gone on record as saying Ahsoka will have longer episodes as it has a lot of story to fill and is really bridging the gap with The Mandalorian. Let's just get this out of the way, Grand Admiral Thrawn one of the Star Wars fan bases favorite villains is the key figure of the show.
While rumors are swirling Thrawn will not enter until close to the end of Season 1, the first installment does end in a cliff hanger (again rumors) with the hope of a Season 2. With Lucasfilm in a perceived state of flux with the people calling the shots an old fan favorite done by the original Rebels creator (Filoni) could help revive Star Wars to the point where fans would be willing to give Ahsoka a second season.