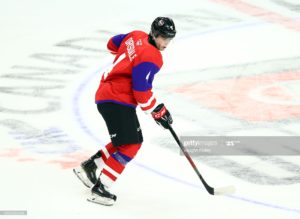 The 2020 NHL draft is stocked with high-end talent. Alexis Lafreniere, Quinton Byfield, Lucas Raymond, Cole Perfetti, Anton Lundell, Alexander Holtz, Tim Stutzle to name a few. The Detroit Red Wings already have solid defensive prospects in players like, Filip Hronek, Gustav Lindstrom, Kasper Kotansalo and Moritz Seider. Yet, the Red Wings could look to draft defenseman Jamie Drysdale with the teams first round draft pick.
Detroit Red Wings general manager Steve Yzerman understands you build (or in this case rebuild) a team from the back end out. The Red Wings are armed with some very good defensive prospects. Jamie Drysdale could be the icing on the cake for a unit that has some teeth to it.
Jamie Drysdale, has a superior hockey IQ he also has lightning quick feet, and playmaking ability that is well above average. Drysdale is viewed as the best defensive player in the 2020 draft.
Another aspect of Drysdale's game that really stands out is his speed. At 5′ 11″ Jamie does not have ideal size but makes up for it with hands and stick to disrupt his opponents. The number of turnovers Drysdale has created this season by stick checking was absurd.
Even with his size it is difficult to poke holes in his game. If Yzerman decides Drysdale is the player to help push the Red Wings rebuild forward the organization will not only get an elite hockey player, but they will also get a great leader and someone of very high character.
When Jamie Drysdale is on the ice  he is a dominant player who uses excellent speed, agility and rapid decision making to make himself the most dangerous player on the ice at all times. Drysdale is close in style to 2017 fourth overall pick Cale Makar who was selected by the Colorado Avalanche.
Jamie Drysdale has the ability to be both a shutdown defender on a teams top pairing and also power play quarterback.