Detroit Red Wings general manager has a history of big daring moves. He did it during his time in Tampa Bay and put an eventual Stanley Cup Champion on the ice. Yzerman's latest big move is daring, he has waived veteran forward Justin Abdelkader for the purpose of buying out the remainder of his contract.
Before the 2016-17 NHL season the Detroit Red Wings then general manager Ken Holland sign forward Justin Abdelkader to a massive $29.75 million dollar contract ($4.25 million dollar salary cap hit.)
Since that time Abdelkader has failed to live up to the contract. After scoring 23  in 2014-15 and 19 goals  2015-16 , Abdelkader never came close to those offensive totals again.
As one of the Red Wings alternate captains, Abdelkader played 49 games last season, getting three points (all assists), with a minus-14 rating. It is a move that needed to be made.
Red Wings GM Steve Yzerman made the bold move Tuesday afternoon. Knowing full well the buyout will count against the cap for six years:  $1,805,556 in 2020-21, $2,305,556 in each of 2021-22 and 2022-23, and $1,055,556 in the following three seasons.
From a team stand point this is a bit of a blow. Many in and around both the Detroit Red Wings and the NHL say that Abdelkader is a great teammate and great in the locker room. On the ice was a different story.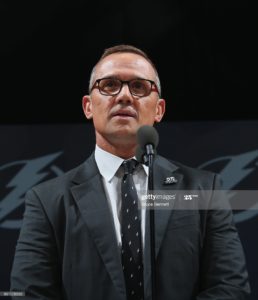 Knowing Steve Yzerman's history, it is safe to say that he is clearing a roster spot for a bigger move. This is a big year for the Red wings rebuild. The media knows, fan know it Yzerman surely knows it.
Just what that move will be is held by one person, the general manager. Yzerman has never made a big move and followed it up with a small move. He goes big then often goes bigger.
Perhaps something is brewing tonight during the 2020 NHL Draft. We shall see.