Lucas Raymond, LW, William Wallinder, D, Theodor Niederbach, C, Cross Hanas, LW, Donovan Sebrango, D, Eemil Viro, D,  Sam Stange, RW, Jan Bednar, G, Alex Cotton, D, Kyle Aucoin, D, Kienan Draper, RW, Chase Bradley, LW are now part of the Detroit Red Wings organization.
It absolutely hurt the Detroit Red Wings not having the first pick in the draft.  Red Wings general manager Steve Yzerman did the best he could and pulled off some really solid draft picks. Picks that will help the brutal rebuild the Red Wings are enduring.
Yzerman did score a home-run pick when the Red Wings selected Lucas Raymond. Defensman William Wallinder was thought to be a first round player but fell into the Red Wings lap with the first pick in round 2.
For Yzerman and his scouting department they did not have any big misses and were able to get volume which is what is needed for rebuilds. Theodor Niederbach and Cross Hanas in my opinion were very good picks for the draft slot. Both players have big upsides and project well at the NHL level.
"At the top of the draft, you'd like to think you have a little bit more certainty as to what the player is going to be and who the top, top prospects are," Yzerman said after Wednesday night concluded the 2020 NHL Draft.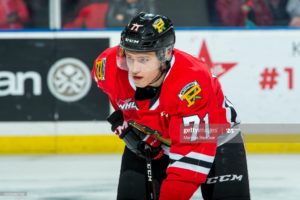 The Detroit Red Wings second year GM sounded pleased with the draft haul, "Hopefully a few of them become NHL players." It was not hard to identify what Yzerman and his scouting department were looking for.
Fast skaters, good hockey IQ, size with good character. As I stated before, the Red Wings did not have any real misses. The one pick I question is goalie Jan Bedar. Bedar has lacked consistency yet the 6′ 4″ netminder has the tools to be a very good NHL goalie. It seems Yzerman is banking on his developmental team to get Bedar to that level.
Now comes the fun part, watching prospects grow and reach the NHL.