The Detroit Tigers vice president of player development Dave Littlefield, is in Lakeland Florida preparing for an onslaught of Tigers prospects to begin offseason development. This after there was no minor league baseball played due to COVID-19.
Detroit Tigers top prospects Spencer Torkelson , Riley Greene  and Parker Meadows all where chosen to participate in Toledo as part of the Tigers shuttle during the 2020 MLB regular season. Those top prospects will be in Lakeland as will 16 of the organizations top 30 prospects.
Some players are training for the first time since spring training. "They are shaking the rust off, there's no doubt about it, Guys are in different levels of shape. It's going to take a little time to get some of the timing back for the hitters, even the conditioning that's necessary to play defense, or to be ready to throw off a mound," Littlefield said during a ZOOM call.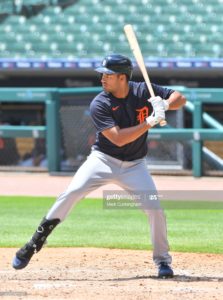 It is a needed activity for all prospects. To further development and to get back to baseball. It is safe to say because on the lengthy layoff players will be brought along slowly at the start.
For the prospects it is also a way to bond and create some chemistry as they had into fall ball or the offseason depending on each players developmental needs. Something that is needed in sports. Good chemistry leads to a better culture which in a perfect world leads to winning down the line.
It will be worth monitoring for fans and media. The Detroit Tigers have a top 10 prospect pool, those players are looking to take the next step in hopes of finding their way to the major leagues soon. For a city who's sports teams are either just bad (Detroit Lions) or rebuilding Tigers, Red Wings and Pistons, prospects, drafts and free agents are about the only enjoyment until the teams are set to win again.