The Detroit Red Wings have just eight players under contract beyond this season. Only Red Wings center Dylan Larkin is signed through 2022-23. What does that mean for Red Wings general manager Steve Yzerman? It means the Red Wings will have a blank slate, tons of cap room and a lot of time and space to make big plans after the 2020-21 season concludes.
By large the Detroit Red Wings were one of the NHL's offseason winners via free agency. The ever savvy Yzerman spent money on solid players on short one and two year deals. Players that given their track record he can flip at the trade deadline for more assets.
With Steve Yzerman now spearheading the Detroit Red Wings rebuild, he attracts free agents. That has never been a problem for the Red Wings mind you. But now the organization can pick the best free agents with nothing on the salary cap.
When he returned to Detroit, Yzerman preached patience. Not because the GM thought it would take years, but rather because Yzerman was willing to wait until contracts either ended or became tradable or the time was right for a buyout . That was the right course of action to take. It now has the Red Wings smelling the roses.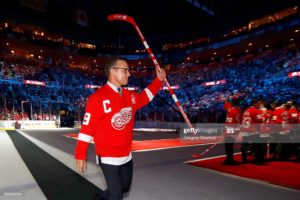 Something else to watch is how Yzerman views the RFA (restricted free agents) market as well. Part of the reason an offer sheet has not come the last few weeks of this offseason is a because a handful of teams that could make offers do not have the draft picks to give if an offer should be accepted. That is not an issue for Detroit who has nine draft picks next summer and will undoubtedly have more once the trade deadline comes and goes this season.
As for NHL general managers most  lack the ability to do anything. It is not so much that they would not, they simply can not due to salary cap issues. Their teams are handcuffed.
That is not the case for the Red Wings and Steve Yzerman.