Right after manager the next most important hire for any baseball team is the pitching coach. New Detroit Tigers manager A. J. Hinch, Friday announced he has hired University of Michigan pitching coach Chris Fetter to head the young pitching talent for the Tigers. It was a moved that was met with praise across the baseball landscape.
A. J. Hinch said yesterday that he and the Detroit Tigers added a "very big piece of the puzzle." Bringing in Chris Fetter to coach the pitchers is viewed as a progressive move by the Tigers. While Fetter is just 34 years old he has built one of the most successful pitching programs in the country while with the Michigan Wolverines baseball team through the use modern technology and data.
Chris Fetter said that while technology, data and analytics certainly have their place in baseball, he also relies on gut instincts with pitchers. So Fetter has said he has backed off being numbers driven and is better able to communicate with the players.
The Detroit Tigers with a lot of big arms and top pitching prospects in baseball got better with the Fetter hiring. Fetter said of the Tigers pitching prospects that "The pieces are there" (namely Casey Mize, Tarik Skubal, Matt Manning, Alex Faedo and others.)
Chris Fetter was among the most coveted college coaches in the country, earning praise for his development of Michigan pitchers and his use of technology to get the most out of his players. Now he will head to Detroit and do the same.
Fetter is correct, the pieces are in place for the Detroit Tigers to begin to form a playoff caliber team. A. J. Hinch has laid the foundation of a strong coaching staff. The money to make splashes in free agency, with only Miguel Cabrera's $30 million guaranteed for 2021, seems ready to be used soon.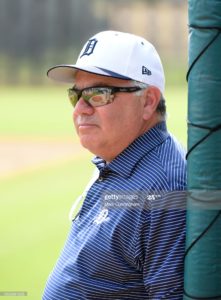 Last week Detroit Tigers general manager Al Avila said the rebuild is done now the team is going to enter the "building stage." That stage has begun with the hiring of both A. J. Hinch and pitching coach Chris Fetter.