The 2021 NHL trade deadline had seemingly come and gone and the Detroit Red Wings had not made a move. Very odd (again seemingly) for a rebuilding team to do nothing. The 3:00 p.m. deadline past, and then at around 3:30 p.m. a bombshell was dropped that sent ripples across the NHL landscape. Red Wings general manager Steve Yzerman traded a player who just five months ago was thought to be a cornerstone building block, Anthony Mantha was dealt to the Washington Capitals in a blockbuster trade.
Right Wing Richard Panik, Left Wing Jakub Vrana, as well as a first round pick in the 2021 NHL Entry Draft and a second round pick in the 2022 head to Detroit from Washington for Anthony Mantha. Before we dive into just what the Red Wings are getting in Panik and Vrana understand, Steve Yzerman gets an A+ for this trade. This is a trade that will help speed up the rebuild, IF. We will also look at the IF.
First let's look at Jakub Varna. Varna was the classic good player stuck behind other good players limiting his minutes to about 13- per game. Varana averaged more goals than Mantha even though he was behind players like Nicklas Backstrom, T.J. Oshie and others.  This was a great get for Yzerman and the Red Wings.
Now for the IF. The draft picks are great to have. But as I have said from time to time, drafting players is like throwing darts at a dartboard. This is where the Detroit Red Wings scouting department must come through.
Richard Panik is a decent player, this was not a target for Yzerman. In order to make the trade happen the Red Wings took Panik which is in effect a salary dump for Washington.
Anthony Mantha had signed a contract extension back in November. He was thought to be part of the long term plans for the Red Wings. Steve Yzerman has said for a long time now that he will listen to any offer for any player something any GM should do.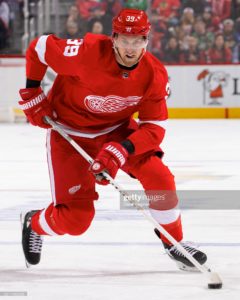 Mantha who has had consistency issues and lapses in play had frustrated Red Wings coaches. I have to believe it also frustrated Yzerman. Still Mantha has a lot of upside and perhaps he will do well in Washington.
With the trade Steve Yzerman has sent a message to the rest for the Detroit Red Wings, no player (well a select few) are off the table to be traded.