Former Detroit Lions quarterback Dan Orlovsky had some rather poignant remarks regarding his former team. Orlovsky's plea? For current Lions general manager Brad Holmes to not repeat the same mistakes made by the last few Lions GM's. Dan Orlovsky does not want the Detroit Lions to take a skilled player (quarterback, running back, wide receiver, linebacker) in the first round.
I ask as a fan @Lions
History is there to teach you not to make the same mistakes of the past….Either trade back or GO BIG@ESPNNFL pic.twitter.com/UIAnEf91ty

— Dan Orlovsky (@danorlovsky7) April 26, 2021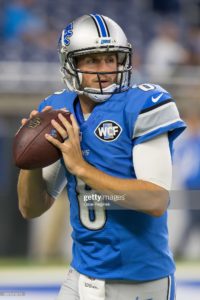 You may recall just a few days ago, I made a similar statement that Dan Orlovsky (current ESPN analyst) made yesterday via social media. It is somewhat surreal that a former NFL player and current analyst would echo what I had written.
That said, it is a drum that I am going to beat up unto the 2021 NFL Draft. Orlovsky is dead right! No, zero, zilch, NFL team has ever had success building it's roster by drafting skilled players in the first round.
If a team does draft a skilled player it is because they feel the offensive line and defensive line are set. That is not the case in Detroit. The right side of the Lions offensive line is currently a mess. The defensive line is not a whole lot better.
Again, IF Brad Holmes and head coach Dan Campbell do in fact believe quarterback Jared Goff is the long-term solution then the team must build around him. Not behind him (running back) not out to the sides of him (wide receivers/ tight end.) But right in front of him, namely the right side of the offensive line.
It is nice to know that someone else out there feels the same way about how to build an NFL roster that I do. Again former NFL head coach and NFL Hall of Famer Bill Parcells established this philosophy  and enjoyed a lot of success.
It is easy to get caught up in the flash and glitz and sexyness  of skilled players. It is a much better position to be in when teams choose a bit more wisely and build both the offensive and defensive lines.