When it comes to Detroit Tigers prospect watching all eyes are on the top dog, Spencer Torkelson. But, at the start of the 2021 minor league season it is 2020's second round draft pick and #5 ranked prospect Dillon Dingler who has put on a show. Giving the Tigers a promising prospect at the catcher position. In my opinion Dingler is a player who could shoot through the Tigers minor league system.
Scoring the first run of the season for the West Michigan Whitecaps stemming from his first professional home run while picking a runner off at second base, Detroit Tigers catching prospect Dillion Dingler made a rather big first impression.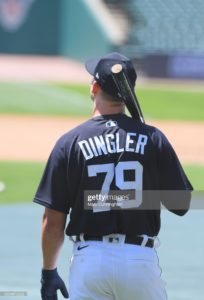 Dingler was drafted out of Ohio State and now plays in Michigan, teammates and fans let him know. In a fun loving way. Playing both centerfield and catcher for the Buckeyes showcased Dingler's  athleticism. Now he is catching full-time.
Dillion Dingler would go onto hit another home run and collect a total of 5 hits. Widely viewed as a first round draft pick, Dingler fell to the first pick in the second round where the Detroit Tigers selected him. Catching and catching prospects has been a thorn in the side of the Tigers organization for a while.
With no minor league season last season Dingler was placed at the Tigers Summer Camp with big league players. The Tigers next moved the young catcher to the alternate training site in Toledo, and allowed him to start catching advanced pitchers all summer.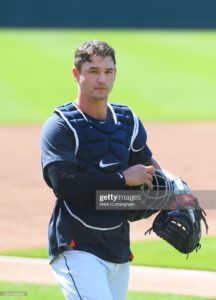 While it is only a small sample size, it appears the Detroit Tigers may finally have their catcher of the future. In fact MLB scouts were drooling over Dingler's potential pre-draft.
With plus defense and plus bat, along with plus power, Dillon Dingler  should not have made it out of the first round. The Detroit Tigers are both happy and fortunate he did. Soon Tiger fans will also be happy he did.