Iron Maiden established themselves as one of the most original metal bands to date. While most heavy metal bands focus on doomsday material, Maiden found footing diving into subjects like history, war, God, Satan success and failures. The band took the COVID shutdown of sports, entertainment and may other things to record a new album. "Senjutsu" released 9/3/2021 has immediately taken it's place as one of Iron Maiden's best albums, ever.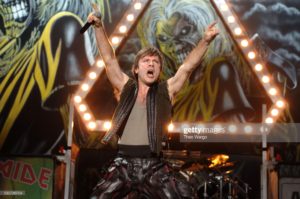 Iron Maiden is and always has been a fearless band that never repeats the bands past accomplishments. Always looking for new material both in song writing as well as musically.
With "Senjustsu," Maiden has top themselves yet again and show why there is no threat to them losing the crown as metals best band. The album is long ( 1 hour and 21 minutes) it dives into a of a rang of subjects such as "The writing on the wall" which has an Old Testament feel to it. "Days of future past" which looks at the end of the world.
While the band has successfully found a new sound (again) the album's spotlight is on lead singer Bruce Dickinson. Dickinson who survived a cancerous tumor on the back of his tongue in 2015. Shows absolutely no ill effects from the cancer or from the treatment he endured.
Musically, Iron Maiden has never and I stress never sounded better. "Senjustsu" is a more free sounding album than than many of the bands past material.
From the opening track "Senjustsu" until the finale track "Hell on earth," Maiden is at their best. Standout tracks are difficult to identify as each track holds it's own.
As a big fan of Iron Maiden, it is both exciting and rewarding it is also a  privileged to have "Senjustsu" to listen to.  It is a must have for Maiden fans everywhere or metal fans. If you just want good music to listen to you could do worse.
Iron Maiden's "Senjustsu" is so good that upon it's release it joins such Maiden classics such as "Seventh Son of a Seventh Son," "Somewhere in Time," "Powerslave" and "The Number of the Beast" as the best Iron Maiden albums. The album also cements Maiden as metal's greatest band ever.