It is not the fact the Michigan Wolverines football team has started the season 3-0. They have done that often over the past few seasons. In fact Michigan has looked good enough to beat anyone the past few seasons and then cracks in the foundation appear and the football team falls back to earth. The start of this season feels different, it feels different because it is.
Michigan Wolverines head coach Jim Harbaugh brought in new coaches to help breathe life into the football program. The moves are paying off. Michigan's defense looks like well Michigan again. The offense looks unstoppable.
The Michigan Wolverines running game is moving the ball at will. A big credit goes to the offensive line who are blowing would be defenders off the ball and opening running lanes. Critics have said Michigan needs to pass the ball more. In yesterday's blowout win against Northern Illinois the Wolverines aired it out for 233 yards.
Offensive coordinator Josh Gattis, now in his third season of play calling has found his groove. When Gattis arrived in Ann Arbor from the Alabama Crimson Tide football program, he insisted Michigan's offense would resemble Alabama's in terms of getting speed in space.
It has taken the Wolverines two seasons to get here, but now players and coaches are on the same page. Michigan is getting players in space and allowing athleticism and speed to do damage. Making the Wolverines look like one of the Big Ten Conference's better teams.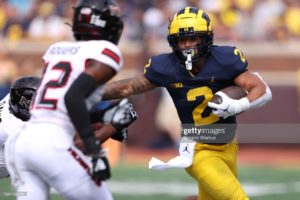 Sure the schedule as some tough games upcoming. If this was last season or the one before it would be sketchy at best to think Michigan could beat a Penn State or Ohio State. Now it seems like the Wolverines can win those games.
From week one to yesterdays win, Michigan is opening the offensive playbook more. They have established a dominate running game. Now they are getting the passing game cranked up. Meanwhile the Wolverines defense is stout and looks to be ready for stiffer competition.