Disney + appears to be bringing another popular Star Wars character to the small screen. The former "Darth," Maul looks to be in the works. The story will be focused around the former Sith Lord's time running the criminal syndicate Crimson Dawn. The show which started out as a live-action idea is now said to be animated.
While the exact title of the show which will feature Maul is unknown, is known to take place after the events of the widely successful "The Bad Batch." What the exact timeline is is still unknown.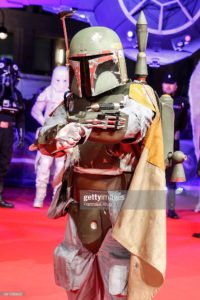 What seems interesting yet calculated, word of the Maul show broke yesterday after The Book of Boba Fett had it's trailer release. Maul has an interesting history in the Star Wars Universe.
In The Phantom Menace, Maul appeared to die at the hands of Obi-Wan Kenobi. Yet, he survived out of anger and was fitted with robotic legs. His role in both Star Wars: The Clone Wars and Star Wars: Rebels left fans wanting more.
Maul made a cameo in Solo: A Star Wars Story as the leader of Crimson Dawn. So the question is how does Maul, Crimson Dawn and Boba Fett connect? I can only submit my thoughts here. So her goes.
I believe it is possible that the Maul show will show how he put Crimson Dawn together and the effects of the groups work had on the galaxy far far away. In The Book of Boba Fett trailers there is a quick shot of Fett talking to a group of people.
I believe those people are none other than the members of Crimson Dawn, the same Crimson Dawn that ( I am going out on a limb here) Boba Fett now runs. While those are my thoughts, I believe this is how they can connect the stories together.
Hold on Star Wars fans, it's about to get interesting and fun. Very soon.