2 Season into the franchises existence the Columbus Blue Jackets needed a game changer. A face of the franchise to give the team traction and fans hope. Enter Rick Nash who would be that player. At the tender age of 18, Nash earned a roster spot and just like that he was the best player the Blue Jackets had. Now the all-time leading scorer in Columbus Blue Jackets history, Rick Nash will see his #61 rise to the rafters as the organizations first player to reach such an honor.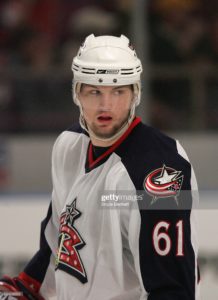 Rick Nash is the Columbus Blue Jackets all-time leader in games played, goals, assists and points as he tallied 289 goals,  258 assists with 547 points along with 568 penalty minutes in 674 games from 2002-12.
For a decade Rick Nash was the leader (captain as well) of the Blue Jackets. During one of the worst seasons in Blue Jackets history (2012) Nash asked to be traded. Nash was sent to the New York Rangers and it paved the way to some very good hockey teams in Columbus due to the return for Nash.
In 2019 Rick Nash returned to the Columbus Blue Jackets, not as a player but  as a a special assistant to general manager Jarmo Kekalainen signaling he may be interested in become a GM at some point.
Rick Nash is a player, well former player who absolutely should have his number hanging from the rafters because Nash still owns nearly every Columbus Blue Jackets record.
To have any other player enter the Blue Jackets organization and wear #61 would seem odd and not right given the level of play Nash played with every single game. That would be a lot to live up to.
Rick Nash now becomes the first player to have his number retired by Columbus. Nash did things on the ice that are still talked about around Nationwide Arena. He is still a fan favorite who gets a fitting ending to his playing days.