When I sat back in the theater chair in 1983 and the opening crawl to Star Wars Return of the Jedi made it's way across the screen what happened next was nothing short of the perfect way to conclude the original Star Wars trilogy. "Jedi" had forged it's way into the hearts of the fan base and left some great memories along the way.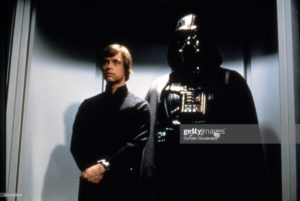 As the film opens C-3PO and R2-D2 are headed to the palace of the vial gangster Jabba the Hutt. They are soon reunited with Luke Skywalker, Han Solo, Chewbacca and other familiar faces.
There is still Darth Vader, Emperor Palpatine and the Empire chasing down the rebels. What "Jedi" offers is genuine conflicted feelings. Luke is conflicted about facing his father. Darth Vader is conflicted with guilt from abandoning his family. Star Wars does confront human interests and the complexity that it can be.
There is also perhaps the best Star Wars space fight in any of the films to date. What should not be overlooked is that Darth Vader was being serious when he told Luke they could overthrow Palpatine and rule the galaxy together. Luke did not buy into that and he nearly died as a result.
The Luke vs Vader lightsaber fight is a lot of fun. When you thought it was going to be alright, Emperor Palpatine shoots lighting from his finger tips, which seeing the movie for the first time was nothing short of awesome.
Star Wars changed movie making. The Empire Strikes Back changed how important good/great sequels are to movie franchises. Return of the Jedi showed how critical it is to finish the story and have closure.
The eye candy that Star Wars offers is backed by solid acting even when the script is bland. George Lucas understood and understands this as well as anyone.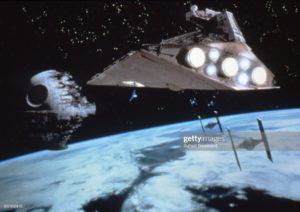 The legacy of the original Star Wars trilogy is still being felt in other films and streaming shows on Disney +. The characters are beloved and quotes are very easy to come by almost daily.
Tomorrow we begin to look at the sequel trilogy (yes, we have to) the elements of good and the whole lot of bad. Please stop by and leave a comment.