"He has a nose for the ball," that is a phrase that more times than not is associated with a linebacker. The Detroit Lions have had some solid linebackers over the years, Joe Schmidt, Ken Fantetti , Mike Cofer, Chris Spielman, George Jamison, are some of the more "household" names. I would like to submit a former linebacker that I believe has fallen through the cracks of time, Jimmy Williams.
Jimmy Williams had a very good college career at the University of Nebraska. In fact Williams was voted first team All-American in 1981 (Kodak,) Williams was voted second team All-American 1981 (AP,) also during the 1981 Cornhuskers season Jimmy Williams was voted three-time Nebraska Defensive Player-of-the-Week.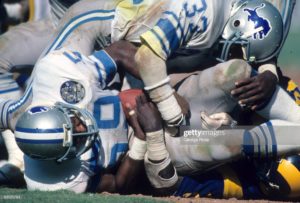 Williams fantastic '81 season lead to the Detroit Lions selecting him in the first round (15th overall) in the 1982 NFL draft. What followed was perhaps the most underrated Lions linebacker career, all Jimmy Williams did was make plays.
Jimmy Williams would play nine of his 11 NFL seasons in Motown. Where he would lead the Lions in tackles. Williams seemed to always be around the football, remember the "he has a nose for the ball" phrase? That was Jimmy Williams.
There have been fan viewed bigger names at the linebacker position for the Lions over the years. But those of us who saw Jimmy Williams play, remember just how solid and fluid he was.
In his post playing days Williams has been in coaching. In fact he started coaching in 1994. Jimmy Williams is going to take part in former Detroit Lions wide receiver (not to mention former teammate) Jeff Chadwick's Legends Camp.
Imagine a child being taught the game of football by former NFL players and the knowledge they provide. Throw in someone like Jimmy Williams who not only played at the highest level in football but went on to coach. That is a lot of knowledge right there.
July 13 (ages 8-12) and July 14 (ages 13-18) 2022 are dates to keep in mind. For just $89 children can learn from former NFL players. The experience will be incredible the knowledge will last a lifetime.