When NFL teams draft a player they usually do so because they believe the player can help them for years. That rang true for the Detroit Lions in the 1980 NFL Draft, when the franchise selected quarterback Eric Hipple out of Utah State University in the fourth round. Hipple would play his entire 10 year career with the Lions.
In the beginning Eric Hipple found trying to become a starting NFL quarterback tough sledding. When then Detroit Lions starting quarterback Gary Danielson sustained  an injury the third string Hipple got the call.
Eric Hipple did not enjoy instant success, he had to work at it. Through hard work and dedication Hipple became a solid NFL signal caller. In 1985, Eric Hipple enjoyed his best season as a Lions throwing 17 touchdowns.
Through it all Eric Hipple knows how hard work and dedication pay off. Hipple also understands how beneficial it is to listen to coach's even when you do not always agree with them.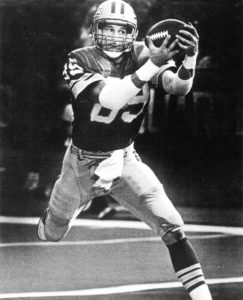 Eric Hipple's former teammate Jeff Chadwick holds a summer football camp for children. This summer (July 13-14) children can learn from former NFL players.
Hipple will be attending the camp and instructing children what it takes to be a starting quarterback. The children will be put through a series of drills one on one in group settings.
As a player who had to fight to become a starting quarterback at the most elite level (NFL) Eric Hipple is a wealth of knowledge that can help children take the next step in their dream of taking a snap and throwing the ball downfield.