Seven University of Michigan men's hockey team were draft by NHL teams. Four of those players were an NCAA record first round draft pick. The Wolverines team captain Nick Blankenburg was not drafted, in fact he was not offered a scholarship. Nick Blankenburg fought and made the team. The Columbus Blue Jackets chose to sign him to a one year contract as he went undrafted. While this is not quite a Rocky story, it is a feel-good one.
At 5′ 9″ Nick Blankenburg does not have the intimidating presence as say Zdeno Chara (who stands 6′ 9″) yet the defensemen played as though he was as tall as Chara.
I quote the great Jedi Master, Yoda "size matters not." Talent matters, heart matters, determination matters. Blankenburg checks all of those boxes. Wednesday night at Nationwide Arena, Nick Blankenburg took the ice for the Columbus Blue Jackets what ensued was that of a fairy tail.
Big hits, five blocked shots, first NHL point, oh and Blankenburg earned the third star of the game. Blankenburg was all over the ice. He uses his stick very well and is not afraid to jump into the mix. Blankenburg  plays with an edge to his game and has a tough man mentality.
The Blue Jackets fans ate up this small yet powerful rookies debut. A kid from Michigan, who played at the University of Michigan now in Columbus Ohio showing the heart of a lion was the stuff of legends, going from college walk-on to undrafted to third star in his first NHL game.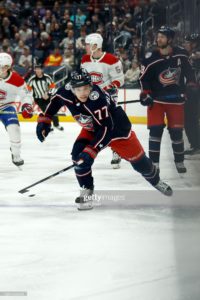 Columbus Blue Jackets head coach Brad Larsen said he likes the toughness in Nick Blankenburg's game. It would seem that general manager Jarmo Kekalainen found an absolute steal.
One more thing of note, Nick Blankenburg also joined the Blue Jackets penalty kill unit all in his first game. It would only be fitting if the Blue Jackets increase Blankenburg's ice time which I feel could happen tonight as the Blue Jackets are in Los Angeles to take on the Kings.