Brad Holmes, Detroit Lions general manager is a man of his word. Leading up to the 2022 NFL Draft Holmes said he was looking for impact players, who could step in from day 1 and make the Lions a better football team. Thursday night's round one of the draft saw Holmes make good on that. Selecting Michigan Wolverines defensive end/ edge rusher Aiden Hutchinson and then trading up to draft Alabama Crimson Tide wide receiver Jameson Williams.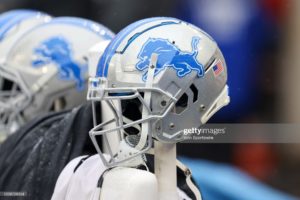 Defensive standout Aiden Hutchinson does not have to move far. The Detroit native is staying in Detroit and said he wanted to be a Detroit Lion from the beginning of the draft process. By all accounts the feeling was mutual. Many NFL experts said the Lions had Hutchinson at the top of their draft board.
In Hutchinson the Detroit football team gets a player who is relentless and plays with a high motor every snap. The team who lacked a consistent pass rush now have a player who at Michigan was very consistent in the pass rush.
With a select few elite edge rushers in the draft, Hutchinson was widely considered the safest pick. The Detroit Lions defense got better with the selection, and yes there is still more work to be done. Drafting Aiden Hutchinson was a excellent start to the draft.
Next one of the Lions more pressing need was at wide receiver. Brad Holmes rolled the dice if you will by trading out of pick #32 and moving up to #12 to take Jameson Williams from Alabama. Williams who tore his ACL is already running. One can only be lead to think the Lions talked with Williams doctors and all is good.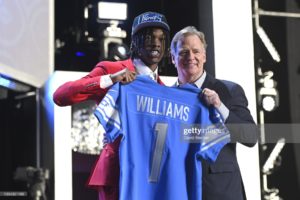 Speed, speed and more speed, this is what Jameson Williams brings to the Lions. Wide receiver was a big issue last season and a rash of injuries at the position did not help. Now suddenly armed with Williams, D.J. Chark and Amon-Ra St. Brown, the Lions wide receivers look dangerous.
All and all, it was a tremendous first night for the Detroit Lions. Brad Holmes was aggressive in moving up, but not overly so. Heading into day 2 of the NFL Draft the Detroit Lions are a better football team.
Drop a comment and let me know your thoughts on the Detroit Lions two first round draft picks.