As Columbus Blue Jackets general manager, Jarmo Kekalainen continues to mold and shape the teams roster it became clear last season that this make over while not fun, could yield a very fun, dangerous hockey team. Going over last seasons roster, and projecting what is to come, I have found 3 players who I believe are likely to breakout next season.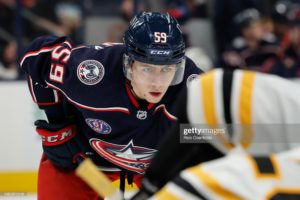 Yegor Chinakhov, RW, while nothing really jumped off the boards during his rookie season, Chinakhov's all around play improved as the season moved along. 7 goals and 14 points with 7 assists  is not earthshaking. Looking ahead to projections, the fleet footed young winger has some very good upside. Chinakhov is a natural goal scorer and I believe much like Oliver Bjorkstand will find his scoring touch in time. I look for Chinakhov to take the next step in his development this coming season.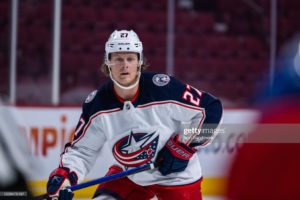 Defensemen, Adam Boqvist is the next on my list of breakout player watch. Playing 52 games because of injuries, Boqvist flashed what is to come. 11 goals, 11 assists with 22 points, suggests that the young blueliner has some serious offensive upside. In what was his first full season in the NHL, Boqvist showed while young and still learning, his defensive game will be solid when it all comes together. Putting on more weight and getting stronger will help fend off the pesky injuries he sustained this past season. It will be fun to watch his development this coming season for the Blue Jackets.
The next player may make some or all of you say, really? Or no kidding? But for me a player who should take a big step forward is Cole Sillinger. Sillinger, who at just 18 years old mind you had a very good rookie season. 16 goals, 15 assists with 31 points, including a hat trick. There was and is a lot and I mean a lot to like from the young center. When drafted the only knock on Sillinger was his "suspect defense." Yet Sillinger played well at both ends of the ice. Can he improve? Yes! In my opinion, Sillinger has not even scratched the surface of what he is capable of doing, which should delight the Blue Jacket fan base.
So those are my 3 players who I believe will or very well could breakout for the Columbus Blue Jackets, next season. Drop a comment and let me know your thoughts.