90 catches, 900 yards, 5 touchdowns averaging 10.13 yards per catch, not bad for a rookie wide receiver drafted in the 4th round. Amon-Ra St. Brown did not burst onto the scene. St. Brown went out week by week and got better and better as the season moved along. So what will the second year WR do for an encore? The Detroit Lions hope he does less that will equate to more. Confused? Let's see if we can clear that up a bit.
Last season the Detroit Lions were decimated by injuries. Amon-Ran St. Brown was drafted as a slot receiver out of USC. Because of injuries, Brown was forced to play as the WR1. In other words, the top dog of the wide receivers.
Low and behold, not only did St. Brown fill in admirably but he became quarterback Jared Goff's go to receiver, as a rookie. Now entering his second NFL season the Lions wide receiver room is solid. Free agent signee DJ Chark, week 11 pick up Josh Reynolds, first round draft pick Jamison Williams and others give the Lions offense more weapons.
Amon-Ra St. Brown, has been tasked by the Detroit Lions coaching staff to work on getting more yards after catch (YAC.) St. Brown has taken the request to heart. In training camp it does not matter how long the pass is, St. Brown is running all the way to the end zone.
With the improved receiver's, St. Brown's catches  are certain to come down. 90 is a lot for any wide receiver, yet if St. Brown does improve in YAC, his yards should not drop all that much. This is the thought process anyway.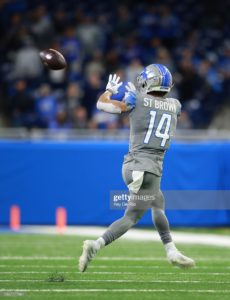 Provided the Lions wide receivers do not have another rash of injuries, St. Brown can stay at the slot position where he is more dangerous. With speedy receivers on the outside that should open the middle of the field for St. Brown when his number is called.
So in this case less = more (if St. Brown improves in the YAC) this will help the Lions offense and the unit should see a marked improvement.
Drop a comment and let me know your thoughts on Amon-Ra St. Brown.