Detroit Red Wings captain, Dylan Larkin is in the final year of a 5-year contract. It is being reported that Larkin and his reps are seeking the same dollar amount that the New York Islanders signed center Matthew Brazal to, 8 years, $73.2 million. It is also known that the Red Wings and general manager Steve Yzerman does not want to pay a player $9-$10 million per-season. So what happens now?
Dylan Larkin is a Michigan guy. Born and raised in Waterford, Mi. Larkin attended the University of Michigan where he was captain of the Wolverines hockey team. Larkin was drafted by the Detroit Red Wings. He said recently the he could not seeing playing for any team but the Red Wings.
Under his current contract Dylan Larkin has exceeded the 60 point mark 3-times. Larkin has transformed his game into being a top line center, pre draft Larkin was viewed as a second line center.
It appears at this time the Detroit Red Wings and their captain are no where close to a deal. Sure they have time to make one work, but if not the Red Wings could cash Larkin in for prospects, draft picks and NHL players.
What would a possible trade look like? First of all top line centers (1C) do not get traded very often at all, throw in a team captain and the return would ben steep to the team making the trade and a gold mine for the Red Wings as far as the return.
In a hypothetical trade, between the Columbus Blue Jackets and Red Wings a trade could like like:
Detroit gets: Zach Werenski (D), Emil Bemstrom (F), Blue Jackets first round draft pick (from the Chicago Blackhawks)
Columbus gets: Dylan Larkin
Again that is only a hypothetical trade. That is the kind of return an elite 1C would net the Red Wings.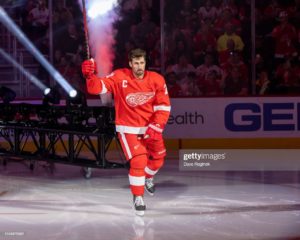 As of right now it is difficult to know if Steve Yzerman is leaning towards signing the Red Wings captain, or if he is taking phone calls, which I suspect some teams have called as a check in.
No matter what happens the Detroit Red Wings are and will be in good shape. If they sign Larkin great! If they trade Larkin great! One thing is for sure, this will be a huge no matter which direction it goes.