This is Star Wars Celebration weekend and it all kicked off yesterday in England. The annual gathering of Star Wars fanatics is met head on with the cast of shows and movies and the head of Lucasfilm and many others. There are fractions of Star Wars fans who complain loudly things are a mess, I am here to clap back at that a bit. Not saying some complaints are not without merit but all is not.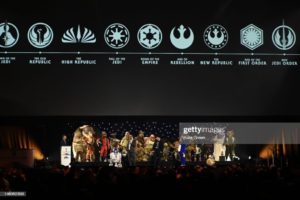 Three new feature films have been announced James Mangold, Dave Filoni, and Sharmeen Obaid Chinoy  will be directing the films. One film will see the return of Rey and is set 15 years after The Rise of Skywalker. Another film will focus on the dawn of the Jedi/Force and the third film will be centered around the New Republic.
Ahsoka is by far the most hyped, most anticipated show of the year. It was met with a teaser trailer first thing in the morning:
Some said it is Rebels 2.0. Fair enough, but Star Wars Rebels offers some of the very best content of the franchise. Actor Lars Mikkelsen will appear as a live action Grand Admiral Thrawn after voicing him on Rebels.
While Season 3 of The Mandalorian has felt a bit off fans were told it is all about to come together with the last two chapters of the season and will answer and fill in the gap of unanswered questions to date.
No matter if you did not/ do not like shows like The Book of Boba Fett, Obi-Wan Kenobi or any other shows, it is fine. There are fans who do like/love them.
With upcoming shows such as Ahsoka, The Acolyte, Skeleton Crew and others remember they have a place in the Star Wars universe. One thing that is interesting of note if Jon Favreau and Dave Filoni said that they were told to take things from all over Star Wars, cannon or non-cannon and bring them into the fold. This is to give the overall arc more body.
Never forget that Star Wars is about self discovery. If fans can do that then perhaps all Star Wars content can find a path to calming people down with the bigger picture in mind.