Anthony Mantha was always part of the rebuilding Detroit Red Wings future plans. A gifted two way forward, Mantha has value to the young Red Wings core. Red Wings general manager Steve Yzerman handed Mantha a new contract yesterday, it is the largest deal Yzerman has handed out in his time in Detroit.
The Detroit Red Wings and Anthony Mantha reached a  four year deal with an annual average value of $5.7 million. Making Mantha the second highest paid player on the team behind center (and line mate) Dylan Larkin at $6.1 AAV.
For all of Anthony Mantha's scoring prowess, the thing that has held Mantha back from becoming the feared  player the Red Wings believe he can be, it is the fact Mantha has been marred by injuries.
A couple of weeks ago Steve Yzerman said that he felt good about getting a deal done with Mantha who was a RFA (restricted free agent.) The deal is the first Yzerman has handed out longer than two years.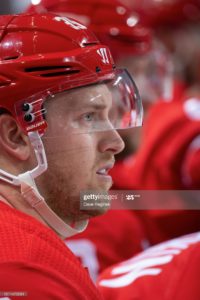 Anthony Mantha can score goals by the bunches. With a history of injuries knee injury, punctured lung, broken hand just to name a few that has robbed both Mantha and the Red Wings from having his full-time help on the ice.
Of the new contract Mantha said  he feels the responsibility on his shoulders, that come with a new contract which include higher expectations. Yzerman has confirmed by the deal that he fully expects Mantha to be part of the long-term plans of the Red Wings organization and he also expects Mantha will do his part to stay on the ice, as well as help young players as the arrive in Detroit while helping the team come out of the rebuild phase.
This is the right move by the Detroit front office headed by general manager Steve Yzerman. Mantha is a young player who has shown more than enough flashes of what he brings to the table.
Now Mantha has to go show that he can live up to the new deal.