Chris Spielman was drafted by the Detroit Lions in 1988. He became a Lions legend in his eight seasons in Motown. Spielman was selected to four Pro-Bowls and was the Detroit Lions defensive MVP in 1993 and 1994. Since retiring from the NFL Spielman has spent time in the broadcast booth and now has a new job. Chris Spielman is the special assistant to chairman Sheila Ford Hamp and president Rod Wood.
When the Detroit Lions were looking for a new General Manager after the dismissal of former GM, Bob Quinn, Chris Spielman began to get to work. His goal was to help not only rebuild the Lions but change the culture.
Over the years many NFL team reached out to Spielman for job openings. Nothing tempted him enough to leave the announcers chair. That is until the team that drafted him came calling. When the Detroit Lions called Spielman's loyalty answered. He was never going to work for another team. That would go against everything he believes in.
Chris Spielman had a meeting with owner Sheila Ford Hamp, and he knew. This is what he wanted. His team needed him and like the defensive captain he was and still is he agreed to return to the Lions full-time.
Spielman has a good reputation around the league he has a lot of connections. He used those connections to identify Brad Holmes. He would meet with Holmes and do his own interview with him before he reported to the owner and team president.
After the meeting Spielman knew Brad Holmes was the right guy to rebuild the Detroit Lions and help unify the team as well as change the culture. Next up was finding the right head coach. Those who remember what type of player (hard nosed, tough as nails) Spielman was, were not surprised when he recommended Dan Campbell for the head coaching job.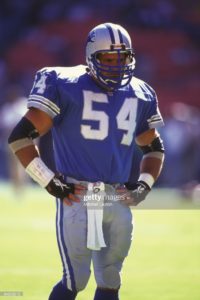 So the new look Detroit Lions that have begun to take shape are being made in the image of an old gritty linebacker. That is part of why fans are actually pleased with the direction of the franchise.