Columbus Blue Jackets center Max Domi underwent successful shoulder surgery Thursday to repair a labral tear. According to Blue Jackets general manager, Jarmo Kekalainen, Domi had been having trouble with the shoulder for some time. That may have contributed to an underwhelming season for the usually reliable Domi. With the Columbus Blue Jackets already in need of center help, does the Domi news force the Blue Jackets to trade for a center?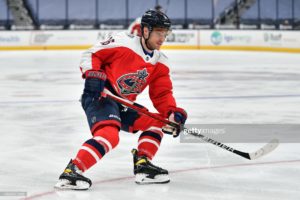 In recent days the Columbus Blue Jackets have been linked to Buffalo Sabers center Sam Reinhart. The Sabers are in desperate need of a goalie. The Columbus Blue Jackets have two goalies as well as very good depth in the organization. So trading either Elvis Merzlikins or Joonas Korpisalo for Reinhart would work for both teams.
Max Domi is expected to miss 5-6 months which means he will miss the start of the regular season as he is looking for a November return. Domi struggled this season with 9 goals, 15 assists, 24 points, 75 penalty minutes in 54 games in 2020-21.
As stated it is unknown at this time what role the shoulder injury played in Max Domi's season. Domi did begin to play better as the season moved along but never reached the level of past seasons. At just 26 years old Domi is far from a declining player.
The Columbus Blue Jackets are in dire straits at center. The team needs a top line center in the worst way. Now with Domi being shelved for the start of the 2021-22 NHL season the Blue Jackets need a second line center as well. A position that a player like Sam Reinhart could fill.
In what has already shaped up to be a busy offseason for the Blue Jackets GM Jarmo Kekalainen and President of Hockey Operations, John Davidson, The Max Domi injury may have added to the busyness.