As the days have pressed on since Columbus Blue Jackets defensemen Seth Jones announced he would not re-sign with the team, many fans and media outlets have wondered and pondered if the Blue Jackets were about to embark on a full-blown rebuild. If they do, what would that look like? I offer some thoughts, mind you this is before any trades are made, if any at all.
By many accounts the Columbus Blue Jackets were going to entice Seth Jones to sign a long-term contract by offer him a max deal. 8 years at $9-$9.5 million per-season as well as offer him the teams captaincy. In my opinion the Blue Jackets should now offer that same deal to defensemen Zach Werenski.
Werenski was the captain of the Michigan Wolverines hockey team and by all indications the 24 year old has the respect in the Blue Jackets locker room needed to be named captain. If the Blue Jackets do make the offer and lock up Werenski they would be doing so before he enters his prime years. This would be key.
At just 23 years old and despite coming off his worst pro season the Columbus Blue Jackets should also offer a massive deal to Patrik Laine. A player of Laine's prowess does not come along everyday. Not to mention Laine like Werenski is not in the prime of his career yet.
Next players that are on the current roster suggest this could be a shorter rebuild. Max Domi, Gustav Nyquist, Eric Robinson, Jack Roslovic, Vladislav Gavrikov and a couple others give hope that shorter rebuild is on the horizon.
Armed with 3 first round draft picks (the first pick is #5 overall) gives the Blue Jackets something to work with. They could use all three first round picks or trade one or two to upgrade the roster to ice a competitive team next season.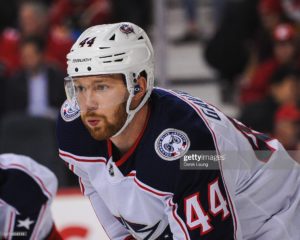 Columbus Blue Jackets general manager, Jarmo Kekalainen is said to be bent on fixing the teams center position which is in desperate need of an upgrade. There is little doubt that the GM will indeed fix the position.
While the Blue Jackets have a lot of salary cap space, they need to be wise how they use it. One thing I believe the organization should do is build around defensemen Zach Werenski and the offensive skills of Patrik Laine. This would be the smart thing to do.