Tyler Bertuzzi is fresh off his best NHL season. Bertuzzi scored 30 goals, with 32 assists and 62 points, all career highs. He is set to be a restricted free agent. There is one small thing though, Tyler Bertuzzi is worth a lot, not just to the Red Wings but other teams would like his services as well. For the rebuilding Red Wings and general manager Steve Yzerman this is where things could get interesting.
Tyler Bertuzzi is a gritty player who's teammates love. He plays with an edge to his game. At 27 years old how and does he project in the Red Wings future? Bertuzzi has said he wants to stay in Detroit. Steve Yzerman said he wants to sign him, but…..
If you remember, Anthony Mantha said the same thing about wanting to stay in Detroit and Yzerman said he wanted him. Mantha signed an extension and was traded. In a rebuild the only sure thing is gaining assets.
The toothless Toronto Maple Leafs made yet another first round exit from the Stanley Cup Playoffs. Needing toughness and having already talked to Detroit about Bertuzzi, this summer perhaps talks will heat up again. Or another team will come calling.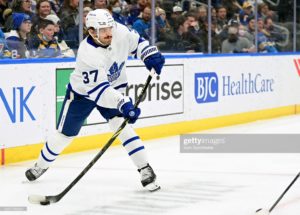 Toronto is in serious salary cap trouble. Perhaps, they make an offer and Yzerman counters the offer by offering to take one of the Maple Leafs big contracts and say young defensive player Timothy Lijegren. This would be a fair deal. Toronto would shed some money for the cap and get a player that would bring toughness to the lineup. While Detroit would get a young defensive player to help the blue line.
Personally I feel that given his age and the fact he could help the Red Wings rebuild by being traded, it makes more sense to deal Bertuzzi and push the rebuild along a bit quicker.
This is going to be year four, for Yzerman as Red Wings GM. The Red Wings need to start to show improvement in the win column. Yzerman's job is not in jeopardy nor should it be. The rebuild should have started years ago. Yzerman had to come in and clean up the mess which has taken time.
Tyler Bertuzzi and his fate will be one thing to watch in the coming days leading up to the 2022 NHL Draft.