You're only as good as the guys up front. That is an age old saying when it comes to offensive lines and not just in the NFL, at any level of football. For the rebuilding Detroit Lions they can check the offensive line unit off of the to-do list. The Lions have a top 10 offensive line and that group when healthy is special. The Detroit offense can really take a step forward this season.
While the Detroit Lions were hit hard by the injury bug last season, when the teams first unit offensive line was on the field the Lions moved the ball well. Injuries came and the struggles settled in.
Center, Frank Ragnow missed most of the season, left tackle Taylor Decker missed a lot of games (8) and the list goes on. The fact is that Ragnow, Decker and last years first round draft pick Penei Sewell, give the Lions three very good linemen.
Decker and Sewell give the Lions one of, if not the best tackle duo in the entire NFL. Throw in Frank Ragnow who is in the 90% range for run block and for all centers and you can see why offensive line is not as big a hole to fix as other positions during this rebuilding process.
The Detroit Lions offensive line actually gives the team a shot to make a playoff run, even during a rebuild. Will it happen? I do not see that as being very likely, but the Cincinnati Bengals went to the Super Bowl a year after winning jus 2 games the year before, so I suppose it is possible.
While the focus this past NFL Draft was defensive heavy (for good reason that unit was not good and has a ways to go,) the question is with a healthy offensive line how does that improve the team in wins/losses?
General manager Brad Holmes, brought in more speed for the offense so that will help with tempo which the Lions were so slow last season paint almost dried faster that the Lions offense moved.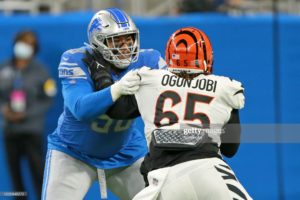 This will be a unit to watch this coming season. It sure seems like Penei Sewell is a sure bet to take the biggest step forward. At the end of the day the Lions will be a better team heading into toe 2022-23 season. If the offensive line can stay healthy I believe 3-4 more wins is possible.