When the Detroit Red Wings then general manager Ken Holland drafted Filip Zadina two years ago it was widely known Zadina was a pure goal scorer. Detroit lent Zadina to the Czech Republic hockey team during the AHL/NHL shutdown due to COVID-19. In just three games played, Filip Zadina is heating up.
Four-goals, one assist in three games played. Filip Zadina is showing why he is one of the Detroit Red Wings top prospects and why he is an important part of the organizations future post-rebuild.
At just 21 years old Zadina, was playing well for the Red Wings during the shortened NHL season. After having a rough training camp in which Zadina was assigned to the minor leagues, the young forward found his footing and his scoring touch leading to a November call-up.
Filip Zadina has the offensive firepower the Detroit Red Wings need. His play last season saw Zadina move into a true top-six forward pairing player. One other aspect of his game that has grown by leaps and bounds is Zadina has become much more patient with the puck.  The talented prospect no longer forces the puck into the mix, he clearly is seeing the ice better and it is safe to say the game has slowed down for him.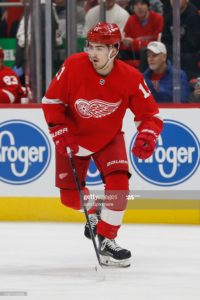 Now a very good puck mover as well as a sniper shot, Filip Zadina has shown he has upped his game and will need to continue to up his game as NHL defenses will surely play the young forward more aggressively next season.
The word on Filip Zadina pre-draft was his projection as a top-line, play-driving winger. Which is why he sits at or near the top of the Red Wings prospect list due directly to his potential.
Heading into training camp for a rumored January start up date for the 2021 NHL season, Filip Zadina will have many eyes on his as the Red Wings front office, coaching staff and teammates will expect to see his take the next step.
Given Filip Zadina's track record, he will indeed take those steps.